Broadband Survey - PLEASE COMPLETE
2/2/2021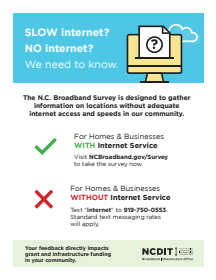 Please take 5 minutes of your time to complete the broadband survey. Once completed, share it with your family, friends, community groups, local agencies, faith-based, etc.
Please note: This is a statewide survey, therefore, it is important to include your address to identify areas without adequate internet and or internet speeds. Your feedback directly impacts grants and infrastructure funding in OUR community.
The survey can be found at the link: BROADBAND SURVEY.
If you do not have access to the internet, the survey can also be completed by texting "internet" to 919-750-0553 (standard text messaging rates will apply).
If you prefer to call to complete the survey, call 919-750-0533.